Technology has swallowed us. It has made everything now in a finger tip. What is the best and fastest now will be the ancient technology tomorrow. Here let me say something about the new version of Android operating system - the Android 3 (Honeycomb) SDK .An android was developed by Google which adds many extra features while using mobile phones. An android is a software stack for mobile devices that includes an operating system, middleware and key applications. The Android SDK provides the tools and APIs necessary to begin developing applications on the Android platform. In other word it is the Google Open Source Platform which is used widely now days. This had a tremendous impact in the market where it rises to develop more new advanced concepts.

1. They are root-able: - Android has NEVER put out an update that un-rooted a phone. Where as Apple seems to spend more time and money on stopping the "rooters" than they do on innovation. This Apple terminology for "rooting "is called "jail breaking". Every single iPhone "update" has disabled jailbreak of phone in process.
2. The Android platform is "open-source." : - An open platform always welcomes innovative ideas from thousands of people. Android uses this functionality. Also it seems to be more secure as thousands of eyeballs are pouring over the code each day. By this the bugs in the code can easily be found out and rectified.
3. App Freedom: - Android apps are allowed to do whatever they want, like an app running on a real computer. For security reasons, they have to get approval from the user at installation time for the things they will be doing like say "accessing the internet" or "reading the state of the phone."

Android 3 (Honeycomb) SDK

The first thing you'll notice about the developer preview is the new Honeycomb UI which stretches the system bar at the bottom of larger displays and gives global status info, while a top action bar allows you to manage your apps. The browser gets multiple tab support, allowing for more comfortable full-screen navigation, and it even supports Chrome bookmark syncing, multi touch support for JavaScript and plug-in, and auto-sign-on into accounts. Consider a home screen for the honeycomb, here there are no button and only navigation controls are present at the bottom of the screen.
The pictures are drawn using pixels rather than paint. It can be reconfigured itself depending on what you have to do. Here we have a Gmail box, a calendar, and next the book marks from the browser. We can also have the contacts, YouTube, photographs etc everything in a finger tip. The android supports multitasking.
Feel the Touch (Screen) & Tabbing:
Everything here is 3d and is controlled by gestures. The privacy settings are also used, where everything placed into a form of tablet and have a set of customize settings consisting of wall papers, images, etc. Just pick and drag to move things in the screen. Other than home spirit it has many advantages as well .As in a normal screen tabs are presented for web pages. We can try new tabs, switch between tabs, and close tabs, it's really like a desktop experience. And the honeycomb has other desktop features as well.
Let's look into Gmail. Here this has been completely redesigned for tablets. It has a nice view of design. It has a quick access to all your labels on left side and across the tab there are icons for common actions. What happens when we select a particular mail is, icons are flipped to show the particular actions carried out. Next the maps are interesting features here. It's really awesome in films but it's even better in the tablets, really works well in larger screens.
Zooming:
Now on zooming far enough the buildings pop up the ground in 3D and we can even tilt it, rotate and zoom it. Also I would like to talk about the notification system. Now it carries more information including photo, it's a notification from a person. Task switching is the feature used here.
Apps and Networking :
It shows all the app states at the left side, and if we open it we can know what all we have visited recently. Games and applications are done in very convenient way here, also provides best resolution, more levels, detailed textures.. You tube consist of number of videos; also can search for new videos in honey comb. Find a video to watch, once when video loads we can step forward it, or pause it, stop it etc.
Honeycomb also makes a good entertaining device. It also helps in face to face communication in Google talk. Video chat is also possible here, where hundreds of millions of users chat with desk top or laptops they have. Thus the evolution of honeycomb has many advanced features which make it possible for a user much conveniently.
Honeycomb Google Ebook version:
Now let us switch on to honeycomb version of Google eBooks. The eBooks has 3 million titles to choose from. The cool thing about this app is that it synchronizes all in the form so the books are available anywhere in a browser in a tablet in a phone, and purchase till the last pages, there is no cable no wire, so it's like liberty to literacy. Reading the book is very natural too. It looks just like the real thing. We can turn pages, feels we are reading the book. Once when we start reading the book the control at the bottom fades, we can do this because all controls are virtual; these help us to concentrate on the content much. Also we can bring these controls back.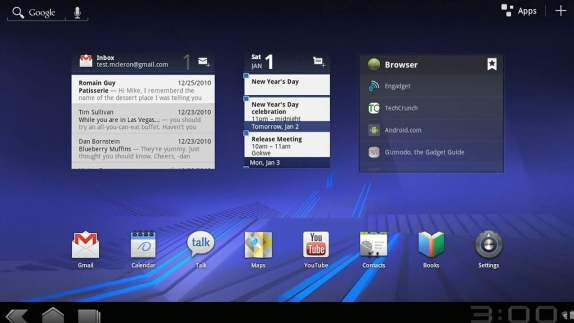 Thus the features of android 3 (honey comb) : -

1. Experience the full web with best in class web-browsing.
2. Millions Of books on the go with Google eBooks.
3. Tablet Optimized Gmail's.
4. Watch all your favorite videos on the newly redesigned you tube.
5. Chat with face to face with hundreds of millions of Google talk users.
6. Explore your world in 3D with Google Maps.
This article is posted by the Guest Writer named

Gayathri S.

Who is doing her final year of Engineering under Anna University Tirunelveli.